Sold out!
White Sage with Eucalyptus – 2 Sticks – Green & Red Eucalyptus is wonderful for protection, focus, survival, & strength
$14.95
Sold out!
Description
Includes:
One bundle of 4″ White Sage with Green Eucalyptus 
One bundle of 4″ White Sage with Red Eucalyptus
Smudging Instructions
Products are all-natural & sustainably collected.

All kits have been smudged before shipping so it will arrive to you positively charged.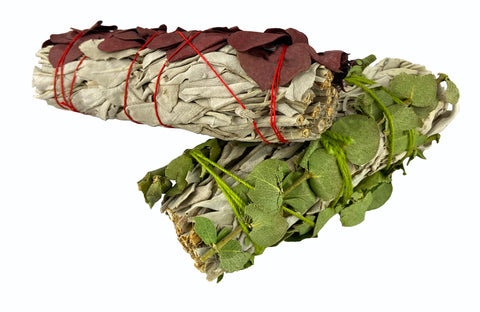 Eucalyptus symbolizes:
Strength
Focus 
Leadership
Survival
Protection
Reasons to Smudge:
removing negative vibes
moving into a new home
after an argument
after illness
if you suspect a haunting
to revitalize your space
Also makes a great housewarming gift
FAQ:
Where is the product grown?  Southern California. 
Are these items organic? As native species, they are naturally resistant to most diseases. No chemicals are used to grow our sage.
Is it wrapped in plastic? No plastic is used to wrap these items.
Are instructions included? Yes, we include instructions that are ideal for beginners.
You can also cleanse yourself, loved ones, pets, crystals, or sacred spaces in your home.
Makes a Great Gift!
housewarming gift
holidays
birthdays
and just because!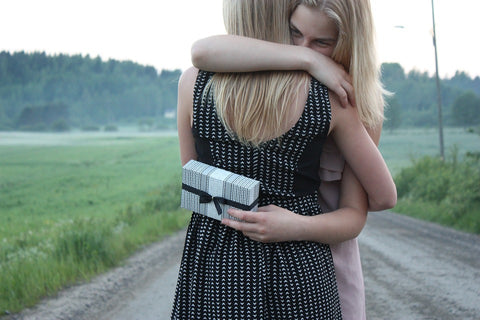 Shop with confidence!
You are helping families all over the world.

Receiving Warm & Friendly Guidance to help with your kit.

Giving yourself or a loved one a gift of peace and positivity.

We ship from the USA. 
About Us:
At Chakra Palace
, we are committed to providing you sustainably sourced, healthy, and natural ways of bringing
conscious growth, meditation, healing, and cleansing
into your life.
We want to guide you step-by-step
through your spiritual journey and help you achieve your goals.
Each of our kits is Individually sorted, graded, positively charged, and packed in the USA
with love and care
.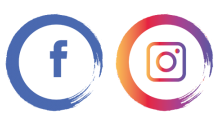 @ChakraPalace
PLEASE NOTE:
Keep in mind that your product will be

 

shipped 1-2 business days

 

after your payment is processed & completed. 
Once mailed, you

 

will receive an email with a tracking number.
As these included items are

 

natural products

 

there may be

 

slight variability

 

in the sizing, shape, and colors of the items. We strive to source and assemble the highest quality products to delight our customers.