Sold out!
Home Smudging Kit with White Sage, Palo Santo, Abalone & Stand, Smudge Feather & Instruction Guide – Designed to bring peace and positivity into your life
$21.95
Sold out!
Description
Includes:
Easy to follow blessings & instructions 

2 White California Sage – 4″ bundles

3 Palo Santo Wood Stick 3-4″

1 Abalone Shell – 5″ or more – with wood stand

1 Rose Quartz for love & peace

1 Amethyst for protection & peace

1 Feather

Warm & Friendly Instructions to guide you step-by-step to help bring calmness into your life.
What is the purpose of Smudging?
Smudging is a wonderful thing to do after moving into a new home, after an illness, after a fight, during a full moon, suspected haunting, or just to keep your environment positively balanced & charged. 
This kit will help you spiritually cleanse and protect your environment. You can smudge your home, workplace (if allowed), car, yoga studio, yourself, pets, or loved ones.
Our home cleansing kit has everything you need to clear your home or workplace of negative energy/vibes.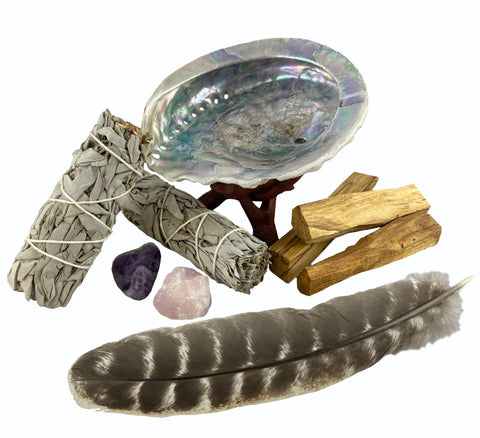 All kits have been smudged and cleansed before shipping so it will arrive to you positively charged.
The included crystals have been charged under a full moon. Products are all-natural. Also, if you are new to smudging, no worries! This kit comes with full instructions on how to use everything.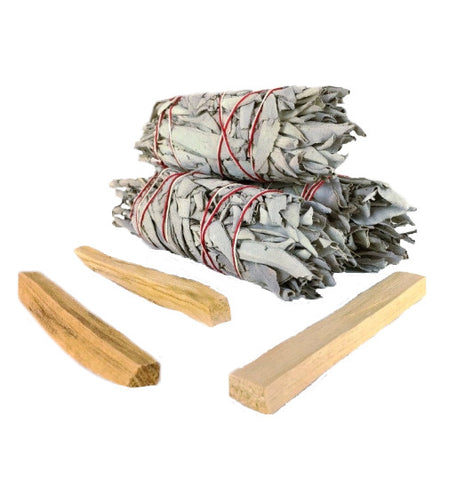 White California Sage & Palo Santo Wood Info:


Sustainably harvested and carefully collected.
White California Sage: Natural, hand wrapped in 100% cotton thread. Known for driving out negativity and spiritually cleansing you & your space.
Palo Santo Wood Stick: Our Palo Santo Wood sticks are used to cleanse negativity similar to sage. It is considered "Holy Wood". Sustainably harvested in Peru from fallen branches with a naturally sweet smell, similar to cinnamon or spices.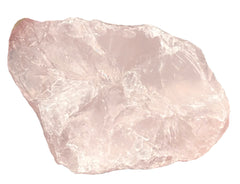 Amethyst & Rose Quartz:
Our amethyst & rose quartz crystals are approximately 1 inch and have been cleansed with sage smoke & charged under a full moon for you.
Amethyst is perfect for providing spiritual protection & clarity of mind as they attract positive energy.
Rose Quartz brings forth tranquil & loving energy.
You can place your crystals anywhere! Home, workplace, car, yoga studio, wear them or carry them 

with you.
Use them in your meditations and smudging ceremonies to add loving & protective energy.
Makes a Great Gift!


housewarming gift
holidays
birthdays
and just because!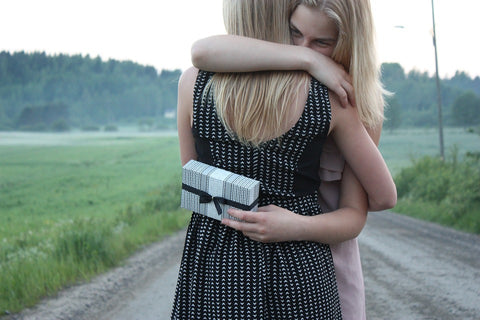 Shop with confidence!
You are helping families all over the world.

Receiving warm & Friendly Guidance available to help with your kit.

Giving yourself or a loved one a gift of peace and positivity.

We ship from the USA.

At Chakra Palace
, we are committed to providing you sustainably sourced, healthy, and natural ways of bringing
conscious growth, meditation, healing, and cleansing
into your life.
We want to guide you step-by-step
through your spiritual journey and help you achieve your goals.
Each of our kits is Individually sorted, graded, positively charged, and packed in the USA
with love and care
.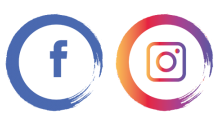 @ChakraPalace
PLEASE NOTE:
Keep in mind that your product will be

 

shipped 1-2 business days

 

after your payment is processed & completed. 
Once mailed, you will receive a tracking number.
As these included items are natural products there may be slight variability in the sizing, shape, and colors of the items. We strive to source and assemble the highest quality products to delight our customers.
These shells have been polished and treated on the inside so they vary in appearance. You might encounter some black marks on the inside. This is not a used shell, that is simply part of the polishing process.
The crystals included are natural and may include internal fractures or other small imperfections. This does not affect the properties or magic of the crystal. Think of it as giving the crystal personality. Each is original.