Sold out!
Metatron Crystal Grid for Chakra Healing – Wood Crystal Grid – Includes Crystals – Perfect for spiritual and emotional healing!
$35.99
Sold out!
Description
Included:
One Laser Cut Wood Metatron Crystal Grid

Size: 4 Inches made out of Red Birch wood
6 Clear Quartz Points
One Chakra Set consisting of: Red Jasper, Carnelian, Yellow Aventurine, Green Aventurine, Lapis Lazuli, Amethyst, Clear Quartz
Crystal Grid Information:
This particular grid is for chakra healing.
We have chosen these stones based on the properties of the individual crystals that are aligned with Chakra healing.
You may, of course, swap out the crystals on the board with others depending on what you would like to focus on. Universal use crystal grid.

Metatron honors Sacred Geometry.

Wonderful for all Chakra work. 

Simply meditate with your crystal grid and chakra crystals to send out the energy of what you are looking to achieve. 
How to use your Chakra Crystal Grid:
Place your grid somewhere that it will be undisturbed away from pets or children. Item does contain small pieces.

Set your intention for your grid. Be specific.

This grid may be used with any crystals you may already have or with the chakra ones that come with it.

 If using with included crystals, start with the red Root Chakra and imagine healing white light coming down into the center crystal and moving its way to the red stone using the clear quartz point. 

Now imagine that same light and energy cleaning out your red root chakra in your body. 

Move along the crystal grid, clockwise, to continue in the order of the chakras in your body.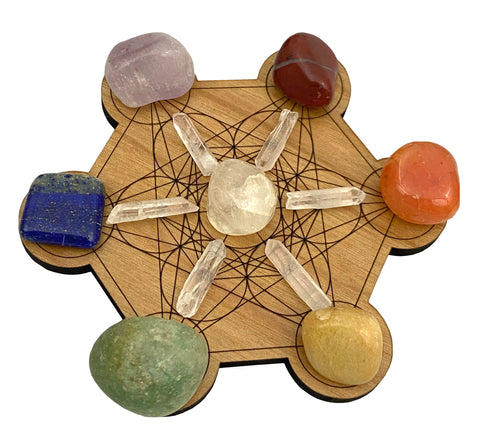 About Our Crystals:
All-natural stones, never synthetic!
Our crystals have also been cleansed with sage smoke & charged under a full moon for you prior to shipping.
NOTE: The crystal healing information is for guidance only. It is not intended as a substitute for medical advice.
You can place your crystals anywhere! Home, workplace, car, yoga studio, wear them or carry them 

with you.
Makes a Great Gift!
housewarming gift
holidays
birthdays
and just because!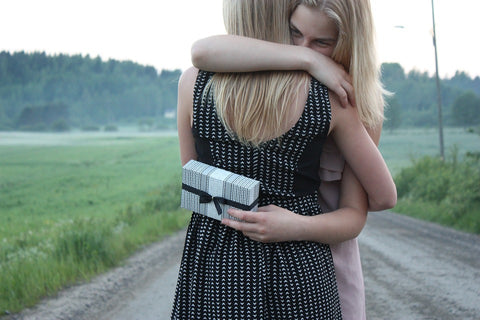 Shop with confidence:
You are helping families all over the world.

Receiving Warm & Friendly Guidance to help with your kit.

Giving yourself or a loved one a gift of peace and positivity.

We ship from the USA. 


At Chakra Palace
, we are committed to providing you sustainably sourced, healthy, and natural ways of bringing
conscious growth, meditation, healing, and cleansing
into your life.
We want to guide you step-by-step
through your spiritual journey and help you achieve your goals.
Each of our kits is Individually sorted, graded, positively charged and packed in the USA
with love and care
.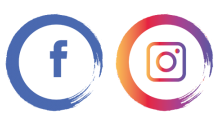 @ChakraPalace
PLEASE NOTE:
Keep in mind that your product will be

 

shipped 1-2 business days

 

after your payment is processed & completed. 
Once mailed, you

 

will receive an email with a tracking number.

 

As these included items are natural products there may be slight variability in the sizing, shape and colors of the items. We strive to source and assemble the highest quality products to delight our customers.
The crystals included are natural and may include internal fractures or other small imperfections. This does not affect the properties or magic of the crystal. Think of it as giving the crystal personality. Each is original.

 The crystal healing information is for guidance only. It is not intended as a substitute for medical advice by a professional.